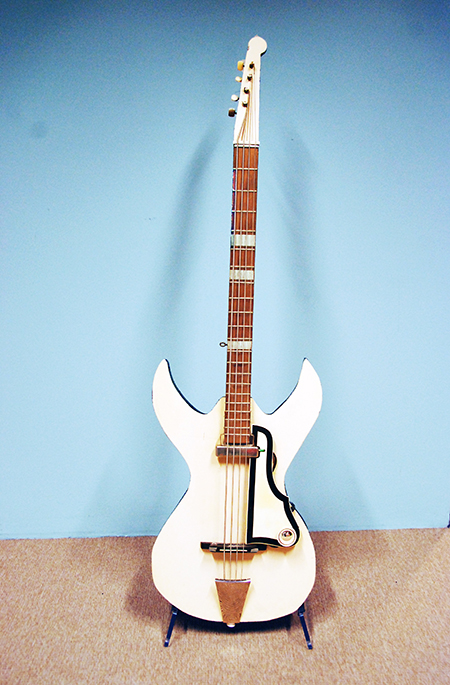 In the Kjetil Storvik book Stumbling Guitars - From Nilsen guitar to Fender Stratocaster (2003), it emerges that Wangberg built the bass out of necessity. Wangberg was in the late '50s leader of a youth club at Ullern in Oslo and engaged the band Jan Rohde and his Cool Cats. During a serious talk about international efforts for the band, there was a need for a bass guitarist and thus a bass guitar. Wangberg was appointed, but the bass was a little-known concept in Norway. To import a bass guitar from abroad was out of financial reach.

Wangberg, therefore, went to an assorted music shop in Sweden, took strategic measurements of a bass guitar and bought strings, stool, and other technical necessities.

Wangberg designed the instrument, and he and bandmate Morten Kolstad made the body, neck and fingerboard from scratch (in a garage belonging to famous actor Henki Kolstad). They mounted tuning pegs and a pickup taken from a guitar, along with a radio knob and corks. Almost before the glue was dry, Wangberg and his bass got their stage debut at a Tivoli carnival by East Railway Station in Oslo. The performance became a great success, but also resulted in open wounds from the protruding frets.

Wangberg - which we now know is a master when it comes to sound - as such producer for Paul McCartney, Beach Boys, etc. - also took the bass with him to England, where The Cool Cats met The Shadows. In Kjetil Storvik book, Wangberg says that Jet Harris of Shadows was impressed by the bass and tested it out. But he was very cautious, for fear of getting finger wounds from the metal fret edges!